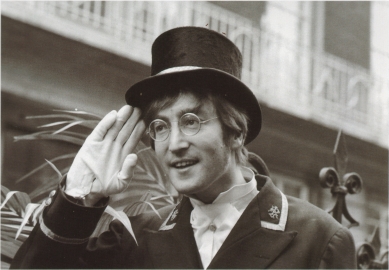 – From The New Rockstar Philosophy book out in March 2009–
I came out of the fuckin' sticks to take over the world. I was an emperor.
–John Lennon, Rolling Stone Interview.

Everyone's version of success is slightly different. Some people may want to take over the world and some will be happy making music their full time gig. Whatever you think success is, make sure to define success for yourself, preferably with a pen and paper.
It may sound like a cliche, but really do this. The New Rockstar Philosophy cannot bold, underline, or italicize this enough. DEFINE YOUR SUCCESS.
Once you define success, you not only bring your goals to focus, but then you have a way of gauging your successes so far.
How can you keep your eyes on the prize if you don't know what the prize is? Define that prize. Define your goals, define your version of success.
Writing it down is a critical step. Most people will define their version of success in their head and work at achieving it. That's a good step but that's not enough. Be brave enough to write down what you want. Be courageous and audacious in your definition. You don't have to share it with anyone else. Defining your success is only for you.
I guarantee that every one of your favourite artists knew exactly what they wanted to achieve, even if all they knew was that they wanted to keep making music.
I doesn't matter how you define success, but really do it. Grab a pen, grab some paper, grab your destiny!
[youtube=http://ca.youtube.com/watch?v=-6G7MkBMVxE]
Take Control of Your Music,
Voyno

Sign Up For The New Rockstar Philosophy RSS Feed
Subscribe to The New Rockstar Philosophy by Email