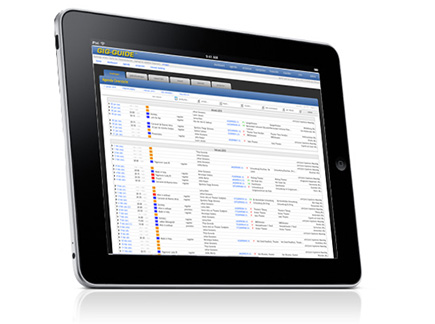 A couple months ago, the good folks at Hypebot did an interview with us, so I thought it was fitting that we did the same. You might know Bruce Houghton as the blogger from one of the most current music industry news sources around. You might not know he's also the founder of a booking agency called Skyline. I shot him an email asking if I could ask a few questions based on his experience in the live/touring business.   He was cool enough to take some time to share some of his brain with us.
Here is the interview:
1. Why did you get involved in the music business and what keeps you going?
I was a journalism major at Boston University and did an internship at the local branch of A&M Records. From that moment on, it was not about if I'd work in the music business, but rather exactly where I fit in.
2. What goes through your mind when deciding to take an act on?? Are there a few key elements that need to be in place???
First, I want to know if they have connected with an audience and is that audience growing organically in multiple markets beyond their hometown? All the hype in the world is pointless unless the audience is moved to go to shows and tell their friends.
Then I get to know the team which could be just the band, but often includes a manager and a label and/or marketer. Are they dedicated and hard working? Do they understand that engaging fans is part of the job? Is there a plan to take this to the next level?
3. When booking a tour for an act, do you also take an active role in promoting the dates (after they've been booked) and if so, what do you do?
Our role after the date is booked is growing. In the old paradigm, the date was booked, the promoter bought a few radio and print ads and left the rest to the label. Now, for the most part, traditional media is not enough and the label, if it exists, has a fraction of the staff and budget as it once had.
Now more than ever, the band is responsible for helping to venue promote the date. That means that we as agents have to make sure that everyone involved has all of the materials and info that they need to promote. We're also spending much more energy educating promoters and artists how to best promote – imparting, at least, a best practices of marketing: get out and promote early and often, go online where the fans are, try to make every show an event, keep prices reasonable. In short, give the fan a reason to buy and make it easy for them to do so.
4. In your opinion, what are the elements of a great live show?
It's all about the moments when the artist connects emotionally with the fans. When I'm at a show that I had anything to do with and the crowd screams, cheers, sings along, cries or responds in any visceral way, I get goose bumps and am reminded of how lucky I am to do what I do every day.
5. Can you give us a quick summary on how you help an artist grow their touring business?
We try to tour strategically. It's not about getting in a van and touring until you drop. What cities and venues are favorable to your kind of music? What promoters and media believe in the artist and will help them grow? Opening act slots are great, but too often the fans are there to see the headliner and could care less about you. I'm also a big fan of festival slots to help grow a band.
6. With hypebot, you cover the industry, where do you see the music industry as a whole in 5 years.
The power is already shifting from the music industry to the artists ad that trend will accelerate. So too, will the importance of the artist and fan relationship. Like any successful relationship, it must become an ongoing mutually beneficial conversation. Artists that embrace that reality can succeed long term. Those that do not will struggle.
Record labels and the rest of the industry will exist, but more and more they will serve the artist and fan rather than dictate to or control them.
—
What I liked most from this intervew is how important the fans are to him. He's concerened about how an artist can connect with a fan and the experience an act can create live.  He's also very concerned with the work ethic of the band and if they've already started touring/building an audience.  It's stuff you might have heard before, but it's definitely worth repeating.
I leave with you a vid of Bruce moderating a panel at Midem 2009
[youtube=http://www.youtube.com/watch?v=OOw_vzSrMvI&eurl=http%3A%2F%2Fvideo.google.ca%2Fvideosearch%3Fhl%3Den%26client%3Dfirefox-a%26rls%3Dorg.mozilla%3Aen-US%3Aofficial%26hs%3DRm3%26q%3Dhypebot%26um%3D1%26ie%3DUTF-8%26sa%3DN%26tab&feature=player_embedded]
Take Control of Your Music
Hoover
Tweet This